Our Philosophy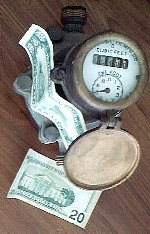 Woodcock & Associates, Inc. was established to provide a dedicated expertise in water and wastewater rates and financing issues. We believe that a crucial element in all consulting engagements is the ability to gain an understanding of each client's unique circumstances, goals, and objectives. Frequent and meaningful discussions are crucial to accomplishing this. Listening to what you have to say, knowing the questions to ask, and drawing on our vast experience, we are able to present you with the information and results you need to make policy decisions. Our personal attention to each client has been a keystone to our success.
Experience
Our experience with projects throughout the world has exposed us to a broad spectrum of issues and problems. While we have seen a lot, we know we have not seen it all. Each assignment brings new challenges. With our widespread experience we have helped develop a vast array of solutions that can be drawn upon and tailored to meet most any need. We are confident that Woodcock & Associates Inc. can gain a thorough understanding of your goals and objectives that will enable us to develop the best solutions to your water and wastewater rate, tariff or financing needs.
Services We Provide
Woodcock & Associate, Inc.'s rate and financial consulting work includes:
Analysis and design of alternative rate structures for water, wastewater, and stormwater utilities,
Preparation of cost of service studies,
Provision of expert testimony before state regulatory commissions and in court proceedings,
Development of computer rate and financial models,
Creation of intermunicipal water and wastewater service agreements,
Preparation of financial feasibility reports in support of debt financing,
Preparation of fixed asset valuation and depreciation studies,
Development and economic evaluation of conservation programs,
Development of utility capital improvement and financing plans, and
Establishing enterprise funds for municipal utilities.